The Haunting at Home: A Paranormal Adventure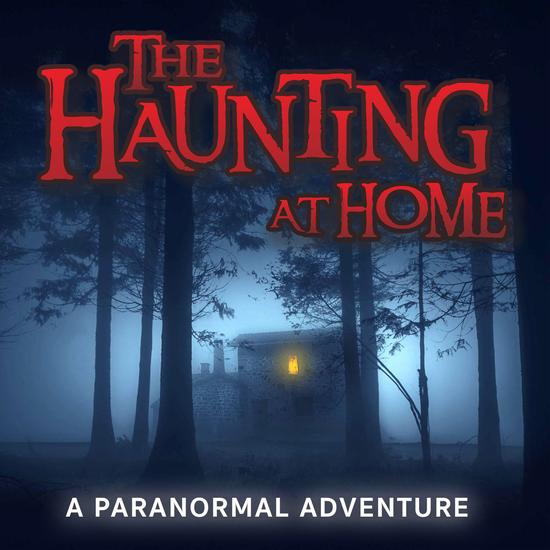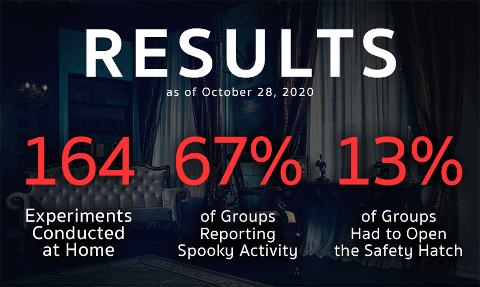 Say 'Hello' to the bump in the night…it might answer back. The Haunting at Home is a ghostly online audio experience. This fun and spooky adventure challenges you to conduct a series of paranormal experiments in your own home – in the DARK. Will you be able to complete them all? What will you discover in the process? It's the perfect night of supernatural chills and thrills.
THIS IS A PRERECORDED ONLINE EVENT THAT YOU CAN PARTICIPATE IN ANY TIME WITH YOUR FAMILY AND FRIENDS. PLEASE ONLY PURCHASE ONE PER HOUSEHOLD.

What is The Haunting at Home?
An interactive online audio experience you can do right in your own house, apartment or creepy cabin in the woods – whenever you like!
Conduct a series of six paranormal experiments alongside your audio guide and ghost host
In other words… gather your inner circle, turn the lights down low and get ready for some spooky fun in the dark.
Do we need to schedule a time?
No. The Haunting at Home can be done at any time! No scheduling is required. Once you purchase, you can be underway in minutes or make plans for a special night. You will have access to the adventure for 90 days. We recommend undertaking the experience in the evening when things are quiet and spooky. However, some groups have already had success with daytime experiments.
How long does it take?
We recommend giving yourself around 2 hours. However, you are encouraged to move through the experiments at your own pace.
How many people are needed?
The experience is designed for groups of 2 to 8 people. One person can complete the majority of the experiments with minor alterations (additional bravery may be required).
Can it be done over Zoom or online?
Yes. While we would always recommend doing the Haunting at Home in person whenever possible, we have now had several groups successfully do it over Zoom. Simple modifications to some of the experiments would be required to adapt to a virtual group.
Is The Haunting at Home a family-friendly activity?
Absolutely! This is a great activity for families with older children who have an interest in the paranormal and enjoy a little spooky fun.
Will my house become haunted?
No. The experience is not about creating new activity. We are focusing on what may be present but unobserved. The methods in our experiments have been safely used for decades (or longer). If you ever become uncomfortable, a Safety Hatch is provided to close down all experiments and any activity.
Is a Ouija Board involved in the experiments?
No. We will only be using common household objects. If you have one and want to include it, that is your choice.
What will you need?
A few simple items you likely already have:
A phone, tablet or computer with internet access to play sound files
Candles (Note: for your safety, we recommend electronic candles)
A small flashlight
Paper (5-10 sheets per person)
Pencils, pens or markers (2 or 3 per person)
Notepad (or any surface to make notes on)
String or dental floss
Key or ring
Mirror (can be moveable or attached to a wall in a separate room)
A few intriguing items with a strong energy or an interesting history. Creepy items are great! You do not need to know anything about these objects in advance but it's also okay if you do.
Each person needs a safe object to hold if they get too scared. Choose an item with good energy or positive memories.
What are people saying about a Haunting at Home?
"A really cool way to spend a couple of hours and we both got spooked." V
"I particularly liked trying the different things in my home environment and seeing what happened. We also liked the questions at each stage that caused us to pause and reflect on the experiments."Brittney
"We loved the quantity and variety of the experiments. It was great being walked through and told the history of the experiments themselves." Rana